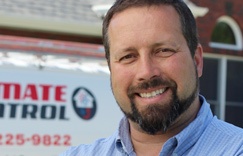 Cam Schock
Co-Owner / System Designer
Cam became familiar with HVAC systems in the late 1980's working for his father's plumbing, heating and cooling business in Eureka.
After attending the University of Wyoming, he made Aberdeen his home and went to work for some of the region's largest mechanical contractors. He also began to offer liquid ice melt and dust control in his extra time.
With twenty years of experience in installation and service of heating and cooling systems, Cam decided to focus his attention on designing systems. He took an engineering tech job at Mettler Sichmeller Engineering and designed systems for local projects, many of them geothermal.
Equipped with a solid knowledge of geothermal, decades of experience in HVAC and a strong desire to exceed client's expectations, Cam launched Climate Control in 2000.
Cam and his wife Amy reside in Aberdeen with their two daughters, Alexis and Abigail.