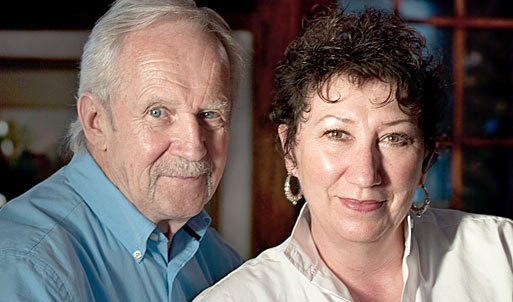 Location
Aberdeen, SD
Occupation
Business Owners, Engel Music
Services Provided
Conventional HVAC System, Existing Home
Chuck and Charlotte Trebilcock are the kind of people that are in it for long haul. Chuck has been running his family business, Engel Music, for over a half century. The couple has been living in the house they raised their four children in for over three decades. So, it's no surprise that their home was equipped with an HVAC system that "came over on the Mayflower."
When their old furnace started going out, they did some research and set their minds on replacing it with a geothermal system. They liked the idea of saving a considerable amount on their heating bills. Having worked with Cam Schock in the past on an air conditioning system, Climate Control was their first call.
"We were really pushing for a geothermal system. Cam was honest with us and he said 'I don't think a Geothermal System is going to satisfy your needs.' He could have made more money but he was very honest and said this is probably not what you need," explained Charlotte. Like many of the older homes in Aberdeen, the Trebilcocks have a modest yard and drilling wells for the geothermal system wasn't a good option.
Cam proposed a conventional HVAC system instead. Having learned how they live in their spaces, the Climate Control crew tailored a system that allows the Trebilcocks keep their basement and living areas warm and bedrooms cooler like they prefer.
"We knew that Cam had other jobs that he was doing at the time that we made our decision. But we just wanted the job done before it got too cold. He said he'd get the job done and he did. If Cam told you something, you knew it was going to happen," Chuck explained.
Charlotte recalled, "It was really, really cold and the snow had blown in around the exhaust and the furnace wasn't venting so it shut itself down. I called Cam and he was here within 20 minutes I bet. And I think I may have gotten him out of bed. It was one of those really cold days and he has a diesel vehicle that takes awhile to get going, but he was here before I could get out of my jammies. If there is a question about anything they're here."
Knowing the quality of Climate Control workmanship, the Trebilcocks had high expectations going in, but they were pleasantly surprised by the extra mile service they received from the team. They'd had an unsightly chimney that they had been trying to get removed, without luck, for some time. No one wanted that liability for that small of a job. "We pointed it out to the guys," Charlotte described, "No hesitation, they just jumped up there and took care of it, it was amazing."
Working with Climate Control to build a conventional HVAC system, the Trebilcocks were able to maximize their comfort while cutting their heating bills in half!