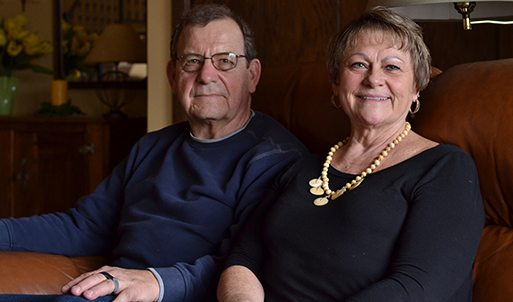 Location
Aberdeen, SD
Occupation
Retired Education Director and Receptionist
Services Provided
Coleman Furnace and Heat Pump, Existing Home
"We just kind of smile when it turns on, as we know it's over 100% efficient."
This was spoken by new Coleman furnace owner, Rae Nelson as she and her husband Dennis shared a laugh and pet their black lab, Izzy. The Nelsons have called Aberdeen home for almost 50 years, from the time they traveled to the Hub City for college at Northern State; Dennis as an education major, and Rae seeking a secretarial degree. They have a son who works in Aberdeen as well, just blocks from where he attended elementary school.
Dennis and Rae have lived in their current residence for over 21 years, as had their previous furnace which was there when they moved in. Dennis estimated its life to be at least 24 years. They knew it couldn't possibly be effective for much longer, so they decided to be proactive and make an appointment with Climate Control to sit down and discuss possible options. But as fate would have it, in the meantime, Dennis and Rae came home from a day of shopping to hear the Carbon Monoxide alarm sounding. They quickly discovered there was a direct leak from the stovepipe that exits the exhaust fumes from the furnace out the chimney. It had accumulated condensation over the years and rusted. After the initial concern lifted, they decided their meeting with Climate Control needed to take place a bit sooner than planned.
"They had someone over here within 20 minutes to check things out," Dennis said.
Tyler from Climate Control discovered that the level of Carbon Monoxide in the Nelson's home was somewhere between 400-500 when it's supposed to live at zero. A desperately needed change was evident.
"I wanted something efficient, but I didn't want Geothermal. Because at our age, we probably won't live long enough to pay it off," Dennis smirked.
Therefore they chose to go with an efficient furnace and heat pump from Coleman.
"For me, and I think we both agree on this," described Dennis, "the thing that we really like is no surprises."
And that went for both Climate Control and their new furnace. Although Dennis and Rae were exceptionally impressed that their bill was exactly as quoted, it's the efficiency of their new Coleman that they appreciate the most.
Rae explained, "Within 6 months of having the new furnace with the heat pump, we were saving $50 a month on our bill. Which is, in six months, a lot!"
They even received a letter from NorthWestern Energy describing that there had been an unexplained, significant decrease in their gas and electric usage. Their new Coleman even had the electrical company stumped!
Overall, the Nelsons have been completely satisfied with their upgrade. They have four levels in their home and are comfortable on all four levels. They hardly have to adjust the thermostat.
"We don't have any cold spots in the house. It used to be that I had my wool socks and bathrobe and everything on in the morning because it took so long for the heat to catch up from over night. And we have none of that now. As a matter of fact, it's almost too efficient in that we can hardly use our gas fire place because the heat is always stable," Rae laughed.
In addition to the comfort and energy savings, the convenience has sealed the deal for Dennis and Rae. The fact that they can run the thermostat from their iPhones while away at their lake cabin truly puts them at ease. They love that this feature allows them to raise the temperature before they leave, but then adjust it on their way back so by the time they arrive home, it's already back to a comfortable setting.
The couple says they've received top-notch service; from the inspection, to the sales meeting, to the installation, and in their day-to-day lives. They are thoroughly impressed with Climate Control and their new Coleman, and when asked if they would recommend both they answered, "Yes, yes, and yes!"