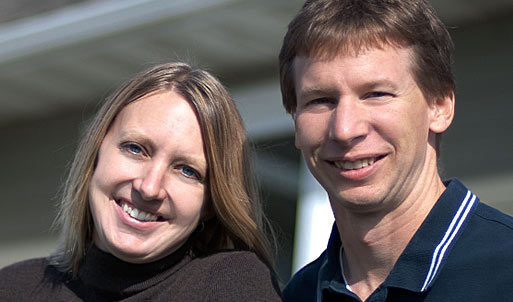 Location
Aberdeen, SD
Occupation
Business Owners, Wooden Mallet
Services Provided
Geothermal System, New Construction
When David and Laurie Kreber decided to build a new home for themselves and their three boys, they knew geothermal was the route they wanted to take for their heat pump. They knew that with this type of pump not only would it be cost effective, but also good for their property; going "green" was an important step for the Kreber's.
"I did a lot of research on geothermal before I contacted anybody," said David, "Just to learn a little bit about it and design a system in my head. Then, I started talking to some people who I'd dealt with before. There aren't a whole lot of people doing geothermal here in Aberdeen, and a lot of them were pretty new at it. When I was talking to them I almost felt like I knew more then they did at times which is never a good thing."
Then the Krebers met with Climate Control.
"Talking to Cam, I finally found someone who knew what he was doing and I felt really comfortable with him and was actually learning stuff from him, which was definitely a benefit. We've got a pretty complicated system with forced air and water and I like the way he set it up. We do our hot water and we heat the garage with in floor heat. Most of the people I talked to had a hard time incorporating that into one system and Cam was able to come up with a cost effective way to do it."
David was the general contractor for his home building project, so he had to coordinate all the contractors first hand. "I was in charge of lining everybody up and dealing with some of the contractors was a nightmare. They wouldn't even answer calls, so a lot of times I didn't even know they were coming until they came," explained David. "Anytime I called Cam I got a hold off him right away, or if he wasn't available to answer his phone he contacted me right back. I'd tell him, 'I need to get that tubing in' and he was here in the morning with his team getting it done."
After the system had been in use for a while, David and Laurie noticed a couple of the rooms in the house were a bit warmer than the others, so they called Cam.
"We were having an issue and they came right back out and they tested everything and fixed the registers to be at the right setting," said Laurie.
"I called him that morning and he said I'll be out there at your lunch time," added David. "He brought something to check the registers and readjusted everything and explained how to keep them set at certain ways. It's been great ever since."
When the Krebers now give tours of their finished home to friends and neighbors they are sure to show off their utility room.
"It's very neat work and it's nice when I'm taking people around the house to be able to show off something like this," laughed David. "I am very pleased with them!"